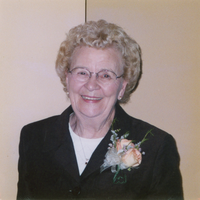 Alma L. Pusateri
Alma L. Pusateri, aged 93 of Clifton Park, passed away on Friday, September 1, 2017. Born in North Dakota, she was the daughter of the late Sigfred and Anna Swanson. She was predeceased by her husband Frank Pusateri, siblings Clarence, Bertha, Lillian, Anna, Carl, Elsie, and Agnes, and her grandson Luke Pusateri.
Alma was raised on her family's farm in North Dakota and moved to Spokane to become a civilian employee of the U.S. Army. While there, she met and married the late Frank Pusateri. They eventually settled in Latham and raised their family. Alma was a lifelong Lutheran and last attended Prince of Peace Lutheran Church.
She is survived by her sons Frank (Rosemary) Pusateri, Richard (Sandra) Pusateri, and Peter (Cheryl) Pusateri, her daughter Anna (Thomas) Harrington, and her brother Donald Swanson. She is also survived by her grandchildren Rachel, John, Jamie, Lucy, Lydia, Abigail, and Kelsey, her step-grandchildren Dorothy and Thomas, her great-grandchildren Riley, Shane, Quinn, Greyson, and Djuna, and many nieces and nephews.
Calling hours will be held on Thursday from 3 to 7 p.m. at the Catricala Funeral Home Inc., 1597 Route 9, Clifton Park, with a funeral service on Friday at 11 a.m. at the Prince of Peace Lutheran Church in Clifton Park. Burial will follow in Memory Gardens.
In lieu of flowers, donations may be made in her memory to a charitable organization of one's choice.