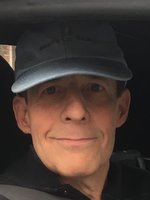 William R. "Bill" Gilleece
William R. "Bill" Gilleece, age 61 of Halfmoon passed away at his home on Sunday, October 1, 2017. Born on April 22, 1956, he was the son of Alice Gilleece and the late Hugh Gilleece. He is predeceased by his brother John Gilleece.
Bill spent his career in the medical field, initially working as a cardio perfusionist at the Medical College of Virginia; working under the doctor who performed the first successful heart lung transplant in Virginia. After graduating from Virginia Commonwealth University Bill moved to the Capital Region employed as an occupational therapist specializing in hand therapy and worked for the Eddy in Cohoes, Hand Center at Memorial Hospital and Samaritan Hospital in Troy.
Bill was an avid outdoorsman and loved to go kayaking, fishing and biking, especially riding in many Tour de Cure. He was a very successful white-water kayaker all over the country successfully running Class V rivers. Bill was proud of his Billfish record while fishing with his brother and nephew in Hawaii. Bill earned his black belt in TaeKwon Do at the young age of 55. Not slowing down for any disease Bill began training for and completing triathlons. No whining was his motto. He became an actor with roles in a variety of community theatre with a starring role in an off-off broadway play. With his fellowship of friends, he was supported and understood Gods plan. Most of all he loved spending time with his family, building cars for his sons' soap-box derby, coaching basketball, camping, hiking, and skiing. Encouraging his sons with their endeavours in Robotics and Tae Kwon Do sparring were his passions. When his children were young, he was known as the "helping dad" for many years at the Clifton Park Nursery School. Bill was a fantastic cook, and his recipes will be remembered by many.
He is survived by his wife, Seaneen Gilleece, children Christopher, Cameron, Robert, and Erin Gilleece, his mother Alice Gilleece, brother Jay Gilleece, nieces Jennifer Denzler and Martha Gilleece, and his nephew James Gilleece.
Calling hours will be held on Friday from 4 to 8 p.m., at the Catricala Funeral Home Inc., 1597 Route 9, Clifton Park, with a funeral Mass on Saturday at 9 a.m. at St. Edward's Church in Clifton Park.
The family would like to thank Dr. Eric Molho and Dr. Ronald Hoenzsch, and the staff at the Albany Visiting Nurse Assoc. including his "gals" Judy, Susan, Beth, and Paula, along with his "secretary" Carol for all of the excellent care that they provided Bill.
In lieu of flowers, donations may be made in Bill's memory to the Michael J. Fox Foundation, P.O. Box 5014, Hagerstown, MD 21741-5014, or by going to www.michaeljfox.org.