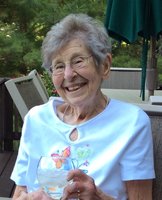 Charlotte Hoz
Charlotte Hoz, age 98, of Ballston Spa passed away on October 3 at Glens Falls Hospital. Born on August 16, 1919 in Utica, she was the daughter of the late Bernard and Esther Geer. She was predeceased by her loving husband Benigno Hoz and her dear daughter Karen Matteo.
Charlotte prided herself on being a loving wife, mother, grandmother and great-grandmother. She was a talented seamstress and cook. Everyone enjoyed her delicious pies and special cookies. Charlotte also shared her love of the St. Lawrence River with her parents, husband, and children.
She is survived by her daughter Linda (Kenneth) Canastar, son-in-law Richard Matteo, grandchildren Amy Alvarez (Ralph), Jennifer Burke, James Matteo, Andrea Benz (Brian) and Christopher Canastar, and great-grandchildren Jeff Alvarez, Caitlyn Burke, Christopher Alvarez, Drew Burke, Ella Matteo, Christian Benz, Jack Matteo, Addison Benz, and Chloe Matteo.
The family would like to thank Charlotte's dear friend Bonnie for her support over the past three years as a caring companion. In addition, they would like to thank Leann and Mary for all of the kind and gentle care they provided. This thoughtful group of women helped to meet Charlotte's wish of staying in her home.
A Mass of Christian Burial will be held on Tuesday, October 10 at 10:00 am at St. Francis de Sales Church in Herkimer. Burial will follow at The Calvary Cemetery.
Charlotte's family would like to recognize her cardiologist, Dr. Roland Phillips, for his many years of care. In addition, the family would like to also thank the doctors, nurses and nursing assistants at Glens Falls Hospital for the excellent care they provided her. In lieu of flowers, donations may be made in her memory to Glens Falls Hospital Foundation, 126 South Street, Glens Falls, New York 12801.