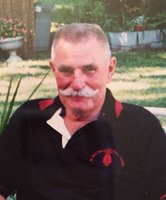 Cornelius A. "Bud" Albert
Cornelius A. "Bud" Albert, age 85 of Clifton Park passed away peacefully on Sunday, October 22, 2017 at the Hospice Inn at St. Peter's Hospital. Born in 1932 in Albany, he was the son of the late George and Grace Albert. He was predeceased by his first wife Rosalind Albert, and his siblings George, Charles, and James Albert, and Margaret Zimmer.
Bud served in US Army during the Korean War as a combat infantryman, and spent his career as a truck driver for St. Johnsbury Trucking in Albany. Bud raised a wonderful, blended family, and enjoyed nothing more than spending time with his grandchildren. One of his greatest accomplishments was receiving an honorary high school diploma from Shenendehowa in 2011. He had fond memories of his trip to Washington D.C. with the Leatherstocking group, his trip to Ireland, and his vacations in Naples, FL.
He was a member of the American Legion Post 1450, the Guttenberg Mason Lodge 0737 in Albany, the Korean War Veterans Association, the Teamsters Local 294 Retirees, and was a lifetime member of VFW Post 6776 in Albany.
He is survived by his wife of 26 years, Patricia Albert, children Gary (Mary Kay) Albert, Eric (Suk) Albert, Michelle (Jack) Burger, Kelly DeMura, and Christopher (Marci) DeMura, and siblings Jerry Albert, Lois Butler, and Joan Daniels. He is also survived by grandchildren Kristi (Kevin) Bucci, Gary Albert, Jr., Johanna Albert, Amy Albert, Rosalind (Daniel) Heaney, Gina (Jeff) Carlson, Matthew Burger, Nicole (Brett) Heim, Sophia, Miranda, and Lauren DeMura, Evan Wilson, and 8 great-grandchildren.
Calling hours will be held on Friday from 4 to 7 p.m. at the Catricala Funeral Home Inc., 1597 Route 9, Clifton Park, with a memorial mass Saturday at 10:30 a.m. at St. Edward's in Clifton Park. Burial will be in Memory Gardens Cemetery.
In lieu of flowers, donations may be made in his memory to the St. Jude's Children's Research Hospital: 501 St. Jude Place, Memphis, TN 38105, or the Hospice Inn at St. Peter's Hospital, 315 So. Manning Blvd., Albany, NY 12208.