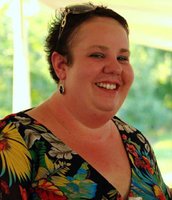 Krysti "Nicky" Mirtschev
Krysti "Nicky" (Hayner) Mirtschev, age 36, passed away on Sunday, November 12, 2017. She was a caring wife, daughter, granddaughter, sister, niece, aunt, best friend, teacher, mentor, and most importantly, caregiver. Her radiant smile lit a room; her infectious laughter filled it. Her sharp wit cut you right to the bone, but always in love.

Nicky was a fighter who knew how to get things done. Diagnosed with Leukemia before she entered kindergarten, she battled many other health obstacles along the way. She dedicated her life to the fight against cancer, and for this reason she decided to make the gift of her body to medical science to help further research. She was a Patient Caregiver at Albany Med helping children and their families fight that same battle as well as a teacher and mentor of medical assistants at Branford Hall.
She is survived by her husband Anton "Tony" Mirtschev, her mother Cindy (Ken) DeVoe-Baker, her siblings, Katie (Adam) Fisher, Michael Hayner, Carl (Katlynn) Fabi, and Mary (Matthew) Wrobel, her grandparents Lawrence and Vaughn DeVoe, and her loving extended family.
A celebration of Nicky's life will be held at The Mill in Round Lake, 6pm on Wednesday, November 15th. In lieu of flowers, donations can be made in her name to St. Baldrick's Foundation.