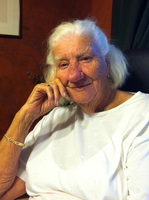 Mildred E. Towle
Mildred Esther Gould Brunow Towle entered into eternal life on Wednesday, November 8, 2017 surrounded by her loving family. She was the daughter of the late Henry and Mabel Gould. She was predeceased by her husband, Leo W. Towle; siblings Charles "Chick", Norma, Dave, Lydia Mae, Howard, Lena, and Jim; and cherished brothers and sisters in law.
Mildred, "Mimi," was a beautiful, outgoing, adventurous woman who loved business, travel, and her family. She embraced the values of the Greatest Generation with an undeniably strong work ethic and generosity towards all life great and small. She made time to enjoy the fruits of her labor: breakfast at the diner with family and friends, hugs from her kids, a sunrise walk on the beach, stopping to smell the gardenias, snuggling a pet, crocheting a blanket, dancing, or singing her favorite song, "The Old Rugged Cross." She was fierce, passionate, and independent. Her strong will was a force not to be reckoned with and that force loved with all her heart. After high school in Carmel, NY and business school in NYC, Mildred went to work as a bookkeeper for Dain & Dill in Patterson, NY. She later devoted many years to Hunt's Country Furniture, a company she truly loved, working as a comptroller and vice president. Unable to retire, she obtained her real estate broker license. An original fixer-upper Mildred purchased, refurbished, and sold many properties merging her love for construction, business, and people as co-owner/broker of Jonathan Realty in Poughkeepsie, NY. She traveled to what was then the U.S.S.R. with World Trade in the 1970's, as well as Asia, Central and South America, and Europe. The journey she treasured most was when she "walked in Jesus' footsteps" in Israel. Mildred always felt drawn to serve the Lord Jesus and considered it a privilege to work on the building campaign for Mt Zion Baptist Church in Carmel, NY, at the Habitat for Humanity headquarters in Americus, GA, and to assist in finding shelter for those in need.
"Momma" loved her family with all of her soul. She is survived by her daughters Mildred (Barry) Hartnett and Maria (Ray) Shore; sons Leo (Celeste) Towle and James "HunBun" (Cindy) Towle; brother William Gould; niece Peggy (Joe) Cutler; grandchildren Brenna Hartnett, Kelly Hartnett, Ryan (Stela Nacheva) Shore, Jonathon (Kyle Prosen) Towle, Hannah Shore, Maria Towle, Lillian (Drew Headley) Shore, Stephanie Towle, Deborah Towle, Stephanie Sweeney, and Janet (Sergio Taraschi) Shore; great-granddaughter Skyler Rae Taraschi; sisters in law; multiple nieces and nephews; adopted "grandchildren;" and dear friends.
A Mass of Christian Burial will be celebrated at St Edward's the Confessor, 569 Clifton Park Center Road, Clifton Park, NY on Saturday November 25, 2017 at 11:00 by the Reverend Patrick Butler.
Mildred's journey "home" surrounded by the loving embrace of her family could not have been possible without our promise keeping and gift giving Heavenly Father; the love, prayers and care of our family and friends; dear friends and caregivers Sandra Torres and Linda Heieck; loyal friend Jim Shaffell; the continuing and ongoing support of BCFlynn Contracting Corporation; Arlene Lyons (RN), and the compassionate, skilled, and comforting assistance of Community Hospice based in Saratoga Springs, NY; and the incredibly loving and generous staff at Fairfield Inn & Suites Malta, NY. We are blessed beyond measure. Thank you. We love you.
Memorial contributions may be made in her memory to a charity of your choice.