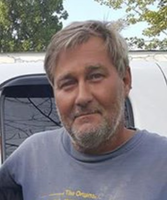 Eugene G. "Gary" Paquette
Eugene G. "Gary" Paquette, Sr., age 54 of Malta passed away suddenly on Monday, November 27, 2017 at his home surrounded by his beloved pets. He was predeceased by his grandmother Ella Bacheldor and his brother Douglas Edward.
Gary spent most of his life in the construction field throughout the area. He last worked as a groundskeeper for St. Joseph's Cemetery and St. Mary's Cemetery, both in Waterford. He was an avid outdoorsman, and enjoyed hunting, fishing, and camping. Most of all he loved riding his Harley, especially during the annual Frog Island Ride for veterans.
He is survived by his spouse, Wendy Mushorn, mother Phyllis Preston, father Robert Paquette, grandfather Fred Bacheldor, former wife Florence Szesnat, children Eugene G. (Debbera Baldwin) Paquette, Jr., Robert J. (Heidi Gates) Paquette, Emily (Michael Loiselle) Marcy, Daniel (Stevie) Marcy, Mary (Derek Murray) Marcy, Bobby (Natalia) Marcy, Teresa (Christopher) Phillips, Erika (Derek) Mushorn-Matala, April (George) Mushorn, grandchildren Nathan, Neveah, Ryker, Robby III, Jayden, Anthony, Layla, Daniel Jr., Derek Jr., Nathan, Dominick, and Nina. He is also survived by many aunts, uncles, cousins, nieces, and nephews, and friends.
Calling hours will be held on Thursday from 5 to 8 p.m., at the Catricala Funeral Home Inc., 1597 Route 9, Clifton Park, with a funeral service on Friday at 10 a.m. at the funeral home.
In lieu of flowers, donations may be made in his name to the Mohawk Hudson Humane Society, 3 Oakland Avenue, Menands, NY 12204.