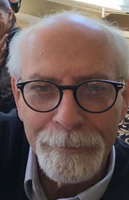 Donald D. Kingston
Donald D. Kingston, age 74 of Rotterdam passed away peacefully on Thursday, November 30, 2017. Born in Massillon, OH, he was the son of the late Samuel Kingston and Virginia Roseman.
After graduating from the Milne School, he attended Hartford Art School in Hartford, CT, where he received a BFA in Advertising Design. He studied Photography and Display Design at the USDA Graduate School in Washington, DC. He studied painting in Naples, Italy and received a MA in Printmaking at SUNY Albany. In retirement, he studied Watercolor Painting at SCCC. Donald joined the US Navy Reserve in 1964 and served as an illustrator at the NAVINTEL Command and various additional commands before retiring after 31 years of service and a rank of Command Master Chief.
Donald was a local freelance artist, graphic designer, and dealer in prints and artwork. He worked for several local businesses including; Watkins Spring Co., of Albany, NY Farm Bureau, and retired after 20 years as the Manager of the Office Service Support Division for Farm Family Insurance in Glenmont. He was a member of the Wadsworth Lodge 417, F.&A.M., Clifton Park Elks, American Legion Post 1450 of Halfmoon, and the Capital Area Chief Petty Officer Association.
He is survived by his daughter Sara Kingston, son Bradley Kingston, brother Thomas (Diane) Kingston, several nieces, and a nephew.
Calling hours will be held on Wednesday from 4 to 8 p.m. at the Catricala Funeral Home Inc., 1597 Route 9, Clifton Park, with a funeral service on Thursday at 10 a.m at the funeral home. Burial will be in Saratoga National Cemetery.
In lieu of flowers, donations may be made in his memory to the American Diabetes Association, P.O. Box 15829, Arlington, VA 22215, or by going to diabetes.org.