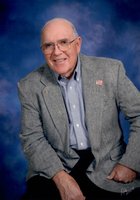 Thomas F. Nelson
Thomas F. Nelson, age 81 of Rexford passed away peacefully on Monday, December 4, 2017 surrounded by his loving family. Born on June 21, 1936 in Schenectady, he was the son of the late Adrian and Susie Nelson. He was predeceased by his wife Mary E. Nelson.
Tom was a member of the first class at Shenendehowa, graduating in 1954. He began his career at General Electric before spending 32 years at the NYS Engineering Materials Bureau. He was very active in the Shenendehowa United Methodist Church, serving as a trustee and sang in the choir, and was a major contributor at the Country Fair.
In his younger years, Tom enjoyed muzzle loading artillery in Schuylerville, and won many awards and medals.
He is survived by his daughters Ginger (David) Deering, and Trixie (Jonathan McPherson) Nelson, sister Sandra Fort, grandson Jarrod "JT" Deering, and several nieces and nephews.
The family would like to thank all of the nurses and staff of the Clifton Hills wing of Schuyler Ridge Nursing Home for all of the excellent care that they provided.
Calling hours will be held on Friday from 4 to 8 p.m. at the Catricala Funeral Home Inc., 1597 Route 9, Clifton Park, with a funeral service on Saturday at 11 a.m. at the Shenendehowa United Methodist Church. Burial will be in Memory Gardens Cemetery.
In lieu of flowers, donations may be made in his memory to the Shenendehowa United Methodist Church, 971 Route 146, Clifton Park, NY 12065.