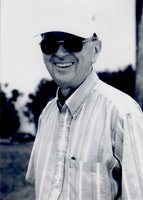 John C. "Chet" Appiarius, Jr.
John C. "Chet" Appiarius graduated from this earthly existence on Tuesday, December 26, 2017. He arrived at Richmond Hill, NY on October 25, 1933, the son of the late J. Chester Appiarius, Sr. and Louise S. (Hoffmann) Appiarius. He married Lucille M. (Minett) Appiarius on October 22, 1955. They raised three children. Chet was a graduate of Brooklyn Technical High School and the Polytechnic Institute of Brooklyn.
He began his GE career in 1955 and was called to active duty in the U.S. Army Corps of Engineers during the Cold War in the 1950s and again during the Berlin Wall mobilization in 1961. His early years at GE were spent as a design engineer in the Large Motor and Generator Department. He spent most of his career in power generation application engineering in the Power Systems Engineering Department. Among his professional activities were membership on the IEEE Power Generation Committee and Station Design Subcommittee. He retired from GE in 1994 and did some volunteer work at the City Mission of Schenectady until family responsibilities required otherwise.
He was a Life Member of the Jonesville Volunteer Fire Department and served 20 years as operations officer. He was chairman of the task force that wrote Clifton Park's first fire prevention code. A lifelong railroad enthusiast, he was a member of several railroad historical societies. As a member of The National Railway Historical Society, he did volunteer work on the photographic archives of the American Locomotive Company. He was a member of Prince of Peace Lutheran Church.
For many years the family enjoyed summer vacations at Lake Winnipesaukee in New Hampshire. After retirement, Lucille and Chet spent winters in Florida. They always availed themselves of the nearness of the Adirondacks with many of their "five-hour" lunch trips.
Chet is survived by his loving wife of 62 years, Lucille, and their three children, Lisa M. Appiarius of Ballston Spa, Laura J. Elliott (Bradley J.) of Clifton Park, and J. Peter Appiarius of Clifton Park.
Calling hours will be held on Tuesday from 5 to 8 p.m. at the Catricala Funeral Home Inc., 1597 Route 9 in Clifton Park. The family will be receiving guests on Wednesday from 10 to 11 a.m. at the Prince of Peace Lutheran Church, 4 Northcrest Dr., in Clifton Park with a memorial service to follow at 11 a.m.
In lieu of flowers, donations may be made to the City Mission of Schenectady, 425 Hamilton St., Schenectady, NY 12305.