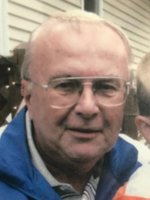 Richard V. O'Malley
Richard V. O'Malley, age 80 passed away peacefully on Friday, January 19, 2018. Born on September 11, 1937, he was the son of the late Vincent and Alice O'Malley.
A veteran of the US Army, Richard worked as a recruiter for the Dept. of Military and Naval Affairs in Albany, retiring after 20 years. Following retirement, he worked as a field agent for the IRS and as an agent for Prudential. Known for his extraordinary intelligence, sharp wit, and a story to be told. He loved to challenge himself with crossword puzzles and watching Jeopardy. He loved golfing with his grandson Derek, and his weekly Friday pizza nights. He was an avid fan of the NY Giants and Duke basketball, and enjoyed attending Shen football games. Most of all, he will be remembered for the deep love that he had for his family.
He is survived by his wife Barbara O'Malley, son Vincent (Alita) O'Malley, daughters Lynn (Peter) Bell, and Lisa (Alan) Maher, and was known as "Peeps" to his grandchildren Derek (Jenna Huneau) Bell, Jocelyn Bell, Nicole Maher, Brendan Maher, Sara O'Malley, and Sean O'Malley.
Services will be private at the convenience of the family.