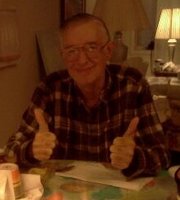 Jeffrey J. Burdyl
In loving memory, Jeffrey James Burdyl age 63 of Halfmoon passed away peacefully on Tuesday, January 23, 2018. Born October 26, 1954, he was the son of Theresa Burdyl and the late Anthony Burdyl.
Jeffrey, a 1978 graduate of Cornell University, received his MBA from Sage JCA in 1997. He was a software licensing manager at RPI, receiving a 25-year Merit Award. He was an active member of the Halfmoon Town Zoning Board, and a member of the World Futurist Society.
He is survived by his mother, Theresa Burdyl, and his brother Mark Burdyl.
The family would like to thank the nurses, and staff of the Schuyler Ridge Nursing Home for the excellent care and smiles they provided in his last days.
Services will be held at St. Peter's Cemetery in Stillwater in the spring.
Donations may be made in his memory to the Clifton Park/Halfmoon Emergency Corps, P.O. Box 1469, Clifton Park, NY 12065.