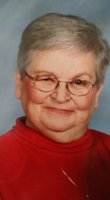 Irene M. Tierney
Irene M. Tierney passed away peacefully on Wednesday, January 24, 2018 at Saratoga Hospital. Born on August 28, 1933 in Brooklyn, she was the daughter of the late Joseph and Wilomena Calagari. She was predeceased by her husband John A. Tierney.
Irene worked as an administrative clerk at St. John's Queens Hospital. Irene was an active communicant of Corpus Christi Church in Round Lake and served on the marriage encounter and engaged encounter programs.
She is survived by her daughter Claudia Ann (Bruno) Marriello, sons John (Nancymary) Tierney, Michael (Lisa) Tierney, Todd (Jean) Tierney, and Christopher Tierney, ten grandchildren and two great-grandchildren.
Calling hours will be held on Monday from 4 to 8 p.m. at the Catricala Funeral Home Inc., 1597 Route 9, in Clifton Park, with a funeral Mass on Tuesday at 9 a.m. at Corpus Christi Church in Round Lake. Burial will be in Saratoga National Cemetery.