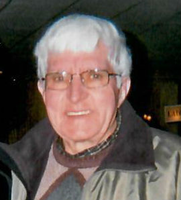 John Joseph "Jack" Leonard
John Joseph "Jack" Leonard, Jr., age 78 of Halfmoon passed away peacefully on Monday, February 19, 2018 at St. Peter's Hospital. Born on July 28, 1939, in Eagle Bridge, he was the son of the late John J. and Marguerite Coonradt Leonard. He was predeceased by his loving daughter Kathleen M. (Leonard) Stadtlander, and his brother-in-law Ernest Ginder.
Jack was a 1956 graduate of Cambridge Central High School and received his mechanic's degree from Hudson Valley Community College in 1958. Upon graduating, he worked as a manager for the White Motor Co. in Albany. Jack then started a long career as a master mechanic with Clemente Latham Concrete for over 40 years, retiring in 2005. Following his retirement from Clemente Latham on a Friday, he started working at Corpus Christi Church on the following Monday. He thoroughly enjoyed his work as the groundskeeper and in maintenance for 11 years. He loved his job and the people he worked with. His mechanical skills and abilities were well known.
Upon moving to Halfmoon in the early 60's, he volunteered with the Clifton Park/Halfmoon Emergency Corps.
He is survived by his devoted wife Joanne Burke Leonard, son Michael J. Leonard, son-in-law John E. Stadtlander, sisters Shirley (Frank) Thompson, and Patricia Ginder, his beloved grandchildren Meaghan Elizabeth and Ryan Joseph Stadtlander, and several nieces, nephews, and cousins.
Calling hours will be held on Thursday from 4 to 7 p.m. at the Catricala Funeral Home Inc., 1597 Route 9, in Clifton Park, with a funeral Mass on Friday at 10 a.m. at Corpus Christi Church in Round Lake. Burial will be in Memory Gardens Cemetery.
In lieu of flowers, donations may be made in his memory to the Clifton Park/Halfmoon Emergency Corps., PO Box 1469, Clifton Park, NY 12065, or to the Corpus Christi Church Building Fund, 2001 Route 9, Round Lake, NY 12151.