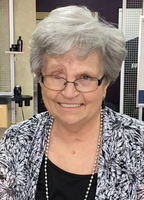 Dana S. Lasher
Dana S. Lasher, age 74 of Saratoga Springs passed away peacefully on Saturday, February 24, 2018 at Saratoga Hospital. Born on October 9, 1943, she was the daughter of the late Dominick and Grace Standish Isolda. She was predeceased by her first husband Anthony E. Leahy, her second husband John W. Lasher, and her sister Gloria Yeackel.
Dana was a graduate of Saratoga Springs High School and attended Buffalo State College. She spent her life raising her family, and last worked in environmental services at Saratoga Hospital. Upon moving to Los Angeles in 1998, Dana volunteered her time at Let There Be Hope Medical Research Institute, the local senior center, and NCJWLA, tutoring shelter-based children in an afterschool program. When she moved back into the area, Dana volunteered at the Wesley Health Care Center, running the Bingo program and working in the gift shop. She enjoyed playing cards with her women's group at Embury and was an avid Scrabble and card player.
She is survived by her three children Joseph V. (Terence Mar) Leahy, Colleen M. Leahy (Vincent) Verro, William D. (Joanne) Leahy, sister Sonya Isolda, brother Kelvin Isolda, grandchildren Joseph Travers Verro, Anthony James Verro, Victoria Sigala Leahy, William Frederick Leahy, Reilly Christian Leahy, and Alexa Lee Noel Leahy, and several nieces and nephews.
Calling hours will be held on Wednesday from 4 to 8 p.m. at the William J. Burke Funeral Home, 628 North Broadway in Saratoga Springs, with a funeral mass Thursday at 10 a.m. at St. Clements Church, 231 Lake Ave. in Saratoga. Burial will be in St. Peter's Cemetery.
In lieu of flowers, donations may be made in her memory to the Wesley Foundation, 131 Lawrence St., Saratoga Springs, NY 12866.