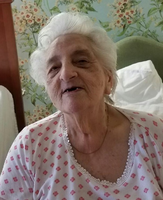 Lucille T. LaPlant
Lucille T. LaPlant, age 88 of Saratoga Springs passed away at home on Monday, February 26, 2018. Born in 1929, she was the daughter of the late Manuel and Dalina Seguin. She was predeceased by her husband James P. LaPlant, her daughter Theresa LaPlant, and son James P. LaPlant Jr, and five siblings.
She spent most of her life raising her family. She enjoyed fishing, camping, and spending time with her family, especially her grandchildren.
She is survived by her daughters Mary (Randy) Howerton, and Nancy (Richard) Kohler, son James (Julie) LaPlant, and grandchildren Rebecca (Thomas), Joshua, Cody (Mara), Nicholas, and Brendon.
Calling hours will be held on Friday from 10 to 11 a.m., with a service at 11 a.m. at the Catricala Funeral Home Inc., 1597 Route 9, Clifton Park. Burial will follow in St. Mary's Cemetery in Waterford. There will be a gathering at Nancy's house at 65 Hathorn Blvd. in Saratoga Springs following the committal service.
In lieu of flowers, donations may be made in her memory to the Community Hospice of Saratoga, 179 Lawrence St., Saratoga Springs, NY 12866.