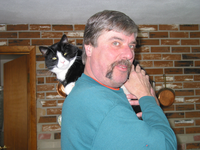 Ronald K. Noradki
Ronald K. Noradki, age 62 of Halfmoon passed away on Tuesday, February 27, 2018 at Samaritan Hospital. Born on September 19, 1955, he was the son of the late John and Barbara Noradki.
Ron graduated from Shenendehowa High School in Clifton Park and graduated Summa Cum Laude from SUNY at Plattsburgh. Ron retired from Time Warner Cable having worked there for 30+ years. He was an avid hunter, fisherman, and gardener enjoying what the outdoors had to offer every season. Ron's expertise in the art of smoker cooking was surpassed by none, his specialty being summer sausages and jerky. All vied for an invitation to his summer smoker BBQ extravaganza.
Ron was a member of the Clifton Park and Halfmoon Fire Departments being an active fire fighter in his younger years. He was also the envy of Clifton Park bowlers with many 300 games under his belt. Ron belonged to the Sportsmans Club of Clifton Park and the Sons of the American Legion. A number of years ago Ron purchased a Harley. He and Sandy spent countless hours exploring the roads in the area, many times attending Americade in Lake George. They biked together with friends, but Ron also enjoyed his rides with 'the guys." You never knew when he would show up at your house for a visit on his Harley.
Ron was also a gentle soul with an engaging sense of humor. He could entertain for hours with real life stories that left you crying with laughter. He was a wonderful uncle to the children in his life, so interested in every milestone they achieved. Ron had a very compassionate side best brought out by the love of his four-legged friends. Over the years he and Sandy adopted many cats and dogs a few of whom were Chaser, Bootsie and Ollie. They also befriended many feral cats, feeding them, providing winter shelter for them and when possible catching them so they could be neutered. His heart was large and generous.
He is survived by his longtime partner Aline (Sandy) Sturtevant whose love and strength he relied upon, sisters Valerie (Jeff) Robinson of Ballston Spa, and Patty (Tom) Bourne of Sandwich MA, niece and nephews Kristen (Mike) Schell of Burnt Hills, Adam Hamilton of Ballston Spa, Ethan (Chelsey Dewar) Bourne and baby Layla of Groton MA.
Ron had many extended relatives in the loving Sturtevant family. Of special importance are Sandy's siblings Lillian Langley, Pam Wheeler, Jeanne Gervasio, Frank and Darlene Lessard, the late Doris Martin and Lorraine Mann and all of their children. In addition Ron had a very close relationship with the Sturtevant children Vicki and Pete, Bill and Debra, Eric and Chelsey, Chuck and Patrice, Keith and Ruth and their families. He is also survived by many cousins and cousins of cousins as part of the large family circle.
The family would like to extend a special thank you to Dr. Maria Kansas, Dr. David Strumps, Dr. Scott Beegle, Dr. Rafael Papaleo and the staff of Albany Medical Center Intensive Care 3D who were so kind and attentive during Ron's stay last year.
Calling hours will be held on Saturday, March 3rd from 9 to 11 a.m., with a funeral service at 11 a.m. at the Catricala Funeral Home Inc., 1597 Route 9 in Clifton Park. Burial will follow in St. Michael's Cemetery in Waterford.
In lieu of flowers, donations may be made in his memory to Whiskers Animal Benevolent League.