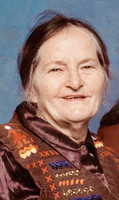 Della M. O'Donnell
Della M. O'Donnell, age 89 of Ballston Spa passed away on Monday, March 5, 2018. Born on June 18, 1928 in Ticonderoga, she was the daughter of the late Ralph and Jane Treadway. She was predeceased by her twin sister Ella, and many siblings.
Della worked at as a waitress at Howard Johnson's, worked in the office at Gardenway Manufacturing and last worked as an aide with the Visiting Nurses. She enjoyed tending to her garden, spending time with her family, and was a member of the Free Spirit Fellowship Church.
She is survived by her children Regina St. Clare, Cerita (Larry) Henry, Walter McLean, Mary (Chris) Valcik, and Raymond McLean, and many grandchildren and great-grandchildren.
A gathering will be held on Monday from 5 to 7 p.m., with a service at 7 p.m. at the Catricala Funeral Home Inc., 1597 Route 9, Clifton Park.
In lieu of flowers, donations may be made in her memory to the Saratoga County Animal Shelter, 6010 County Farm Rd, Ballston Spa, NY 12020.