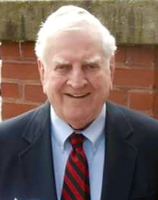 Raymond C. Corry
Raymond C. Corry, age 85 of Clifton Park passed away on Sunday, March 11, 2018 at his home. He was born on November 29, 1932 in Providence, RI, the son of the late James and Annie Corry. He was predeceased by his loving wife of 48 years Eileen Corry, brother James Corry, and his sister Rita Hall.
Raymond graduated from LaSalle Academy in Providence before serving in the US Air Force from 1952 to 1956. Following his service, he graduated with his Bachelor's Degree in Business from the University of Rhode Island. He spent his career as a salesman for Sandoz Pharmaceuticals and last worked as a Manager of Government Affairs for Novartis Pharmaceuticals, retiring after 30 years. He enjoyed reading, golfing, crossword puzzles and was a die-hard Boston Red Sox and NY Giants fan.
As his children were growing up, the Corry's front door was always open. Friends were treated as family and Ray would always be in "his chair" eagerly waiting for visitors. There was always a joke told and everyone left with a smile.
Ray is survived by his children Christopher (Tina Green) Corry, Meghan (Michael) Federico and Kevin Corry, sisters Esther Gorrie, Helen Salois, and Kathleen "Kal" Corry, his grandchildren, Tyler, Cayleigh, Emily and Christian, and many nieces and nephews.
Calling hours will be held on Thursday from 4 to 8 p.m. at the Catricala Funeral Home Inc., 1597 Route 9, Clifton Park, with a funeral Mass on Friday at 9 a.m. at St. Mary's Church in Ballston Spa. Burial will be in Saratoga National Cemetery.
In lieu of flowers, donations may be made in his memory to St. Jude's Children's Research Hospital: 501 St. Jude Place, Memphis, TN 38105 or by going to www.StJude.org.