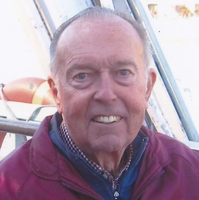 William Barry Lorch
William Barry Lorch, age 78, of Clifton Park, passed away on Monday, March 12, 2018, at Albany Medical Center, surrounded by his family. Born on May 11, 1939, in Cornwall, New York, he was the son of the late Wynne F. and Grace Lorch.
Barry earned his B.A. in Economics from Wesleyan University and spent his career with the NYS Dept. of Civil Service, retiring as Director of the Classification and Compensation Division after 36 years. He was a longtime communicant of St. Edward the Confessor Church, in Clifton Park. Barry, along with his wife, loved traveling and was an avid bird-watcher, often combining the two in search of his next new bird. His favorite birding spots included Alaska, Costa Rica, Trinidad & Tobago, and his winter destination, Longboat Key, Florida, where he visited often since he was a young boy. His "life list" included 723 different varieties of birds. He also enjoyed golfing, and belonged to the Country Knolls Men's Golf League for many years. Above all, Barry loved his family, a source of great joy. During family gatherings, he delighted in playing cards and board games with his grandchildren.
In addition to his parents, Barry was predeceased by an infant daughter, Catherine. He is survived by his beloved wife of 56 years, Brenda; children Ellen Buchanan, Michael (Maria) Lorch, Steven (Jean) Lorch, and Nancy (Tony) Van Beusekom; grandchildren Kaela, Christian, Adam, Kevin, William, David, Abigail, Grace, and Christine; and several cousins.
A memorial Mass will be held on Saturday March 24th, at 10:00 a.m., at St. Edward the Confessor Church, 569 Clifton Park Center Rd., in Clifton Park.
In lieu of flowers, donations may be made in Barry's memory to Regional Food Bank of Northeastern NY, 965 Albany Shaker Road, Latham, NY 12110.