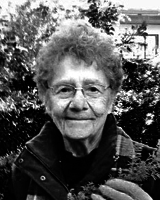 Irene K. Botch
Irene K. Botch of Clifton Park passed away with family at her side at Ellis Hospital on Wednesday, April 4, 2018. She was born in Amsterdam, NY on July 12, 1929, and is the daughter of the late Michael and Frances (Szaluska) Kinowski. Besides her parents she is predeceased by her Husband, James C. Botch, whom she married on May 24, 1947, her daughter, Patricia (Patty) Botch Ryan, her granddaughter, Deborah (Ryan) Torchia, brothers Arthur and Edward J. Kinowski and her sisters Helen Zakriski and Florence Duran.
Irene was caring Mother, Grandmother, Great Grandmother, Great Great Grandmother and Aunt and a friend to many. She will be greatly missed by all who knew her.
After being widowed at a young age Irene raised her four daughters and worked at various accounting positions in the Amsterdam area. In the 1960s she became a staff member of the Accounting Department at MTI (now Shaker/MTI) in Latham and worked there until her retirement. After her MTI retirement she became an employee of the Town of Clifton Park, first working in the Finance Department and more recently in the Tax Collector's office. Irene had many interests and talents, among them oil painting and gardening. Her paintings were showcased at numerous art shows throughout the region. Her garden was a place of peace and beauty throughout the summer and fall each year, with a display of many lovely flowers and plants, especially her amazing collection of Hostas. At the time of her passing, Irene was an active member of the Southern Saratoga Artists Society and the Upstate New York Hosta society.
Surviving are her daughters, Deborah (Debbie) Botch, Judith (Judy &(Norton) Gusky and Sandra (Sandy & (Jack) Heffernan. She also is survived by her grandchildren, Kelly Ryan (Wilfredo Cotto) and James (Jamie) Ryan, Jacob Dulberger, Heather Craig, and Tyler Livingston and great grandchildren, Ronnie and Lindsay Torchia, Danise and Jeffrey Evans, Kristofer Torchia, Robert Hodge and his fiancée, Tasha Misiaszek, Courtney Randall, Casadey Randall, Jenna Randall, Carissa Cotto, Hunter Ryan and Madison Ryan, Dylan Craig and Cody Craig as well as great, great granddaughters, Julianna and Adeline Evans and Charlotte Jo Torchia. She also leaves behind many nieces, nephews and close friends.
Irene's family extends their gratitude to the nurses and staff of A-4 at Ellis Hospital, who provided loving care during her stay.
Friends and family are invited to call on Tuesday from 9 to 10 a.m. at St. Mary's Church, 86 Church Hill Rd., Halfmoon, funeral Mass following at 10 a.m. Burial will be in St. Mary's Cemetery in Ft. Johnson.
Donations may be made in her memory to Ellis Medicine Foundation: Nursing Scholarships, 1101 Nott St., Schenectady, NY, 12308.