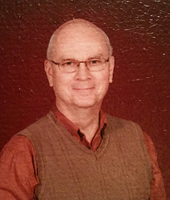 Gerald W. "Jerry" Parker
Gerald W. "Jerry" Parker, age 74 of Clifton Park passed away peacefully surrounded by his loving family on Monday, April 2, 2018, after a long struggle with cancer. Born in Brant Lake, he was the son of the late Fred and Dorothy Parker.
Jerry received his B.A. from Siena College and his M.S. from the University at Albany. Commissioned from Siena, he was deployed to Okinawa for two years where he served as a Fire Control Officer on a Nike Hercules Missile Site. He served for five additional years in the US Army Reserves leaving at the rank of Captain.
Jerry served as a dedicated administrator at the University at Albany for 41 years. He received the SUNY Chancellor's Award for Excellence in Professional Service. He retired as Assistant Provost for Academic Affairs. Since retirement, Jerry has volunteered time at the Saratoga National Historic Park, working as an interpreter at the Neilson House. He was an avid fan of Siena Basketball and was a season ticket holder for many years.
He is survived by his beloved wife of 46 years; Dona Parker, his children Scott (Mari) Parker, and Melissa (Ryan) Wilson, brother Frederick (Janet) Parker, his precious grandchildren Raymond and Theodore Parker, and his nephews.
There will be a memorial mass on Friday, April 27th at 10 a.m. at St. Edward's Church in Clifton Park. Burial with military honors will be held in the Saratoga National Cemetery.
In lieu of flowers, donations may be made in his memory to Friends of Saratoga Battlefield
648 Route 32, Stillwater, NY 12170.