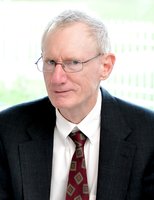 George K. Hansen
George K. Hansen, age 74 of Halfmoon passed away on Wednesday, April 11, 2018 surrounded by his loving family. Born on August 15, 1943, he was the son of the late Hans and Gladys Hansen.
George was a 1964 graduate of RPI in Troy. He worked as an environmental engineer for the NYS Dept of Environmental Conservation, retiring in 2002 after 38 years. He was an avid railroad enthusiast and was a charter member of the Mohawk & Hudson NHRS. George served as the Chairman of the Board of Appeals in the Town of Halfmoon for over 40 years, and he volunteered for many projects in the Clifton Park/Halfmoon area.
He is survived by his wife of 52 years; Janice Hansen, daughter Teresa K. (Jeffrey) Granger, son Thomas K. (fiancé Jessica Mansmith) Hansen, sister Kristine (Luigi) Tarquinio, and his brother Robert (Christine) Hansen. He is also survived by his grandchildren Jeremy (Taylor) Beers, and Maggie and Sam Granger, and several nieces and nephews.
A gathering will be held on Friday from 4 to 6 p.m., with a time of sharing at 6 p.m. at the Catricala Funeral Home Inc., 1597 Route 9, in Clifton Park.
In lieu of flowers, donations may be made in his memory to Captain Youth Services, 5 Municipal Plaza # 3, Clifton Park, NY 12065, or to the Friends of Clifton Park/Halfmoon Library, 475 Moe Rd., Clifton Park, NY 12065.