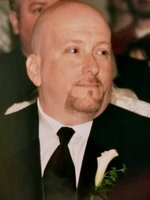 William A. "Bill" Fitch
William A. "Bill" Fitch, age 52 of Halfmoon passed away peacefully on Thursday, April 12, 2018 at the Hospice Inn at St. Peter's Hospital. Born on April 17, 1965, he was the son of Mary Fitch and the late Richard Fitch.
Bill served in the US Army. He worked as a security compliance officer for local businesses. He enjoyed woodworking, pen-making, and target shooting with his airsoft guns. He was an active member of his church, Greater Grace Community Church in Malta. Most of all, he loved spending time with his family and friends, especially his grandson.
He is survived by his wife, Michelle (Ferretti) Fitch, mother Mary Fitch, son Nick (Hannah) Fitch daughter Kayla Fitch (Michael Steyer), sisters Linda Fitch (Tim Bussing), and Lisa (Dan) Silecchia, his grandson Broden Fitch, and several nieces and nephews.
There will be a memorial service on Tuesday, April 17th at 5 p.m. at Greater Grace Community Church, 100 Saratoga Village Blvd, Suite 17, in Malta.
In lieu of flowers, donations may be made in his memory to The Community Hospice, 310 S. Manning Blvd., Albany, NY 12208, or by going to communityhospice.org/donate.