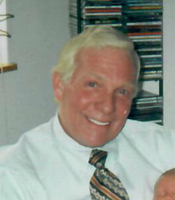 Edward A. McGrady
Edward ("Jeff") Augustine McGrady III, 74 of Clifton Park passed away on October 6, 2017 at Albany Medical Center after a brief illness. He was born in Troy, the son of Edward A. and Margaret McGrady II. He is preceded in death by his father.
Edward went to Catholic Central High School and graduated in 1960. He attended the Junior College of Albany where he met his future bride. He went on to earn a Bachelor's degree in geology from SUNY New Paltz. He spent many years working as a Sales Representative for Graphic Controls Inc. and was awarded "Salesman of the Year" in 1993. After retiring, he worked part-time for Conifer Park, a job he enjoyed a great deal.
Edward could often be found puttering in the yard, floating in his pool, or watching college and pro football on TV. He was an avid NY Giants fan and was fortunate enough to see them win 4 Super Bowls. He had the honor of meeting many of the great NY Giants players over the years and spent many summer afternoons at Giants' practices at SUNY Albany helping to "coach" from the bleachers. He could fix anything with duct tape and used it daily. Most of all, he loved being "Pip" to his grandchildren and immensely enjoyed watching and being involved in their studies as well as their activities/sports.
Edward is survived by his loving wife of 50 years, Mary Ann (Morgan) McGrady; his mother Margaret McGrady of Gloversville NY; his sister Marilyn (Lawrence) Poitras of Gloversville; his daughter Kirstein (John) DonVito of Wynantskill; his son Jeffrey (Kara) McGrady of Clifton Park; his beloved grandchildren Aly and Nico DonVito, Avery and Zackary McGrady, and several nieces and nephews. He also leaves behind many longtime friends from the Clifton Gardens neighborhood.
A Celebration of Life is planned for November 5, 2017 from 1-3pm at Catricala Funeral Home, 1597 Route 9, Clifton Park. In lieu of flowers and because of his love for sports, the family requests memorial donations be made in Edward's name to the Christopher Stewart Media Box fundraiser and/or Twin Town Little League, P.O. Box 369, West Sand Lake NY 12196. He took great pride in watching his grandson Zackary's dedication as a lineman with the Shenendehowa Junior Plainsmen Football league and Nico's as a baseball player.