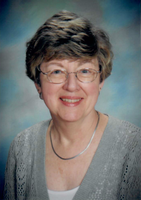 Bonita "Bonnie" Sajler
Bonita "Bonnie" Sajler, age 74 of Clifton Park passed away peacefully on Tuesday, November 28, 2017. Born on March 8, 1943, she was the daughter of the late George and Winifred Day.
Bonnie began her career working for Marine Midland Bank before taking time to raise her family. She returned to work and spent 25 years working for the Shenendehowa School District, last working as the secretary to the principal at Chango. She was a longtime member of the Jonesville United Methodist Church, and volunteered her time with the food pantry and knitted prayer shawls for many years. Bonnie was active in the Eastern Star and enjoyed card stamping, cooking, and baking. Most of all, she loved vacationing in Ogunquit, Maine with her husband.
She is survived by her loving husband, William F. Sajler, son Douglas Sajler, daughter Darlene (Thomas) Jones, and her grandson, Zachary Jones.
Calling hours will be held on Monday from 5 to 8 p.m., at the Catricala Funeral Home Inc., 1597 Route 9, Clifton Park, with a memorial service on Tuesday at 11 a.m. at the Jonesville United Methodist Church. Interment in Memory Gardens will be at the convenience of the family.
In lieu of flowers, donations may be made in her memory to the Jonesville United Methodist Church, 963 Main St., Clifton Park, NY 12065, or to the Alzheimer's Center of Albany Medical Center, 35 Hackett Blvd., Albany, NY 12208.