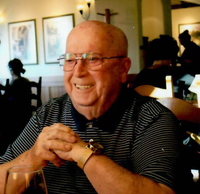 Edwin A. "Teddy" Ryan, Sr.
Edwin A. "Teddy" Ryan Sr., age 84 of Halfmoon passed away at his home on Monday, May 1, 2018. He was predeceased by his son Edwin A. Ryan, Jr, sister Doris Moran, and brothers John and Thomas Ryan.
Teddy served as a Sergeant in the US Army's 28th Infantry during the Korean War. He worked as a traffic signal mechanic for the NYS DOT for 25 years, retiring in 1990. He was a member of the Clifton Park Elks 2466 and the American Legion Post 1450 in Halfmoon, and he was an avid fan of the NY Yankees.
He is survived by his wife of 60 years; Susan Snyder Ryan, daughter Lori (Ken) Monell, brother William Ryan, sister Patricia Cassidy, and grandsons Jason (Jenee) Monell and Kevin (Jeanah) Monell, and great-grandchildren Joshua, Carson, Bryce, and Claire.
Calling hours will be held on Saturday from 9 to 11 a.m.., with a service at 11 a.m. at the Catricala Funeral Home Inc., 1597 Route 9, Clifton Park. Burial will be in Clifton Park Village Cemetery.
In lieu of flowers, donations may be made to the Clifton Park/Halfmoon Emergency Corps., PO Box 1469, Clifton Park, NY 12065.