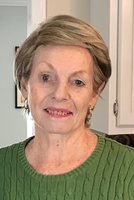 Joyce A. Campbell
Joyce A. Campbell, age 76 of Clifton Park passed away peacefully on Thursday, May 24, 2018. Born on March 30, 1942 in Troy, she was the daughter of the late John and Josephine Singleton. She was predeceased by her longtime companion Thomas Kalteux and her brother-in-law Duane Davis.
Joyce was a graduate of Catholic Central High School. Early in her career she was employed as a real estate agent in the Clifton Park area and retired as a receptionist at the Urgent Care in Clifton Park. She was an active member of the St. Edward's Church community, knitting for Birthright and singing in the choir. She was a charter member of the JUGS group and enjoyed spending time with her friends.
She is survived by her daughters Lori (Brian) McClintock, Wendy (Chris) Wayne, and Susan (Kurt) Roepcke, sister Carol Davis, and brother Jack (Donna) Singleton. She is also survived by her grandchildren Daniel McClintock, Kurt Roepcke, Jennifer McClintock, Kyle Roepcke, Wendy Roepcke, and many loving nieces and nephews.
Calling hours will be held on Tuesday from 4 to 7 p.m. at the Catricala Funeral Home Inc., 1597 Route 9, in Clifton Park, with a funeral Mass on Wednesday at 10 a.m. at St. Edward's Church in Clifton Park. Burial will be in St. Joseph's Cemetery in Waterford.
In lieu of flowers, donations may be made in her memory to St. Edward's Church, 569 Clifton Park Center Rd., Clifton Park, NY 12065.