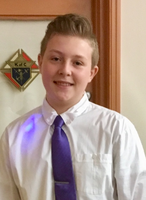 Christian T. Walsh
Christian T. Walsh, age 14 of Latham passed away suddenly on Thursday, July 5, 2018. Born on September 27, 2003 in Troy, he was the son of Todd Walsh and Michelle Fontaine. He was predeceased by his maternal grandmother Charity "Bama" Gorleski.
Christian attended Shaker High School and had just finished his freshman year. He played on the football team and enjoyed playing basketball at the Ciccotti Center. He loved the outdoors, especially fishing and kayaking. Most of all, he enjoyed spending time with his family and friends more than anything.
He is survived by his mother Michelle (Steven) Fontaine, father Todd Walsh, sister Heather Fredette, brothers Shawn, Bryan, and Michael Walsh, step-brothers Steven, Evan, and Nicholas Fontaine, maternal grandfather Thomas Ramundo, and paternal grandparents Michael and Karen Walsh. He is also survived by aunts and uncles; Tina (Allen) Favreau, Nicole Ramundo, Samantha (Felix) Renaud, Tracey Jo (Gordon) Carr, Derek Walsh, Melissa Moscov, and Michael Walsh, and many nieces and cousins.
Calling hours will be held on Monday, July 9th from 4 to 8 p.m. at the Catricala Funeral Home Inc., 1597 Route 9, in Clifton Park. There will be a funeral service Tuesday at 11 a.m. at the funeral home, with the family receiving guests at 10 a.m.
In lieu of flowers, donations may be made in Christian's name to the Children's Cardiomyopathy Foundation, P.O. Box 547, Tenafly, NJ 07670, or by going to www.childrenscardiomyopathy.org.