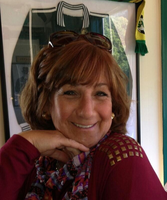 Doreen E. Gaborow
Doreen E. Gaborow, age 67 of Halfmoon, previously of Saratoga Springs, passed away on Sunday, November 25, 2018 with her family by her side. Born in Brooklyn, she was the daughter of the late Elizabeth ("Betty") Hosie.
Doreen worked as a teacher's aide for the Saratoga Springs School District. She enjoyed shopping, singing, and traveling, especially going on cruises with her husband. Most of all, she enjoyed spending time with her family and friends.
She will be lovingly remembered by her husband George, sons Richard (Carissa) Gaborow, Bradley (Caitlin) Gaborow, and Todd (Tanya) Gaborow, and her sisters Joann O'Connell and Lynn Luneau. Doreen will also be missed by her grandchildren, Camden and Reagan, and her grand-dog, Zeno, all of whom affectionately knew her as "Grams," and her many extended family members and dear friends.
Friends and family are invited to gather at the Surrey Williamson Inn in Saratoga Springs on December 8th, from 4-7pm, to share memories and celebrate her life. In lieu of flowers memorial contributions may be made to the American Cancer Society.