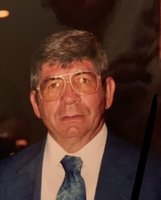 Louis Dahoda
Louis Dahoda, age 82 of Halfmoon, passed away peacefully at home on December 21, 2018 after a long struggle with Parkinson's and cancer. Born in Crescent in 1936, he was the son of the late John and Jennie Dahoda. He joyfully joins his wife of 57 years, Katherine C. Dahoda who passed away on March 9, 2016.
Louis was a member of the 930 UAW Auto Union since 1959, and worked as a mechanical operator for Ford Motor Corp. in Green Island for 30 years until he retired in 1989. He was a Ford Mustang enthusiast, and enjoyed restoring his own cars. Louis was one of the founding members of the Adirondack Shelby Mustang Club.
He is survived by his sons, Louis A. Dahoda and Paul J. Dahoda, daughters, Debbie A. (Fred) Lohaus and Kathy M. (Terry) Nash, grandchildren, Brant and Kendra Dahoda, Frederick, Jake and Aaron Lohaus, and Sarah Allen and Stephanie Nash. He is also survived by his brothers, John, Arthur and Raymond Dahoda and sisters, Genevieve J. Lussier and Julia McHargue and many nieces and nephews.
Calling hours will be held on Thursday from 5 to 8 p.m. at the Catricala Funeral Home Inc., 1597 Route 9, Clifton Park with a service on Friday at 10 a.m. at the funeral home. Burial will be in St. Michael's Cemetery in Waterford.
In lieu of flowers, donations may be made in his memory to the National Parkinson Foundation
Gift Processing Center, PO Box 5018, Hagerstown, MD 21741-5018.