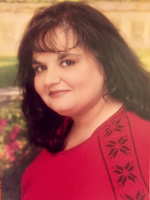 Nancy A. Ramer
Nancy A. Ramer, age 59 passed away suddenly on Friday, December 28, 2018 at her home. Nancy was born on April 26, 1959 in Cambridge, Massachusetts. She was the daughter of the late John Ramer and Ann Ramer. She was preceded by her brother, John Ramer, II.
Nancy worked for many years in the finance department of DeCrescente Distributing Company, in Mechanicville, New York. She retired in September of 2017. She had previously been the treasure of her father's company, Pillow-Tech International LTD, headquartered in Stoughton, Massachusetts. While living in California, she also owned and operated a jewelry company called Mystic Mirage.
Nancy enjoyed volunteer work at the Animal Protective Foundation in Scotia, New York. She also loved travel, cooking, Stephen King novels, movies, craft fairs, shopping at HomeGoods, cookouts at camp, spending time with friends and family, especially her furry babies: Amber Marie; Samuel Douglas; Sapphire Lynn, Precious Ann; and Dante Oliver.
She is survived by Scott A. Westcott, her fiancé, her niece, Alyse Ramer, and two brothers.
Calling hours will be held on Thursday, January 3rd, from 4 to 8 p.m., with a brief memorial service at 6 p.m. at the Catricala Funeral Home, 1597 Rte 9, Clifton Park.
In lieu of flowers, donations may be made in her memory to the American Society for the Prevention of Cruelty to Animals. She firmly believed every animal should be as well taken care of and spoiled rotten as hers.