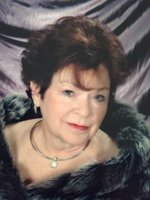 Maryann E. Bemis
Maryann E. Bemis, age 79 of Ballston Lake passed away peacefully on Wednesday, January 2, 2019. Born in 1939 in Hudson Falls, she was the daughter of Eva Normandin and the late Robert Normandin.
Following her graduation from high school, Maryann moved to NYC to work for Clairol. Upon returning to the area, she worked as a beautician and raised her family. In their retirement, Maryann and her husband traveled all over the East Coast, Caribbean, and to Europe, and settled in Georgia for 17 years. She moved back to the cold Northeast to be closer to her family.
She was known for her "larger than life" personality and was always the life of the party, hosting many cocktail parties. She enjoyed the finer things; including the best food, the best wine, and the best clothes.
She is survived by her husband William J. Bemis, mother Eva Normandin, sons Michael Shepard and Jason (Cheryl) Shepard, and her brother James (LaRue) Normandin. She is also survived by her grandchildren Joshua Shepard, Kristina Belser, and Morgan Shepard, and many aunts, uncles, and cousins.
Calling hours will be held on Saturday, January 5th from 10 a.m. to 12 p.m., with a memorial service at 12 pm. at the Catricala Funeral Home Inc., 1597 Route 9, Clifton Park.
In lieu of flowers, donations may be made to Mountain Valley Hospice, 108 Steele Ave, Gloversville, NY 12078.