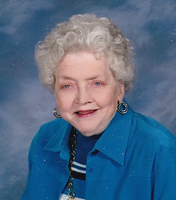 Joan M. Cooper
Joan Marie VanPatten Cooper, 84, of Clifton Park, and recently of Schuyler Ridge Residential Healthcare, in Clifton Park, entered into eternal life on January 4, 2019. Born on September 29, 1934 to the late August B. and Elizabeth (Dickerson) VanPatten.
Joan grew up in Schenectady and graduated from St. Joseph's Academy and the College of St. Rose. In 1960, she married Dr. Ralph J. Cooper. Together, they established their home and his dental practice, in Elnora, NY (now Clifton Park). Joan began her lifelong career with St. Clare's Hospital in 1959, as a Medical Technologist working in the laboratory, nuclear medicine and quality assurance departments. It was only during a brief few months in 1970 that she took a break from working, after the surprise birth of not one, but two babies and returned to full-time employment when her husband, Ralph, was taken sick. Joan maintained her certification in the American Society for Clinical Pathology since 1959 and was granted Emeritus Member status in 2009. Following her retirement in 1999, Joan continued to work part-time at St. Clare's and then Ellis Hospital for several more years. Joan was happiest spending time with her family. She never missed a Christmas pageant, chorus concert, dance recital, ball game or party. She was her children's and grandchildren's greatest champion. She was a woman of great strength, unwavering faith and moral character. She will be dearly missed. In addition to her parents, Joan was predeceased by her husband, Ralph J. Cooper, DDS in 1981; her son, David J. Cooper in 2013; Johanna Dickerson, her aunt who, with her parents, unconditionally helped her raise her children while Ralph was rehabilitating; her brother, August V. VanPatten; and her son-in-law Fred Thompson. She is survived by her four loving and devoted daughters, Sandra and Peter Brenan of Malta, Karen and Peter Mantas of Clifton Park, Rebecca O'Donovan of Hadley, and Roberta Thompson of Mechanicville; her cherished grandchildren, Nichole and Sara Mantas, Eric Brenan, Samuel O'Donovan, and Joshua Thompson; seven nieces and several great-nieces and nephews; and a number of friends of her children and grandchildren who affectionately called her Mom or Grandma too. Joan also leaves behind a lifetime of friends, who were a great comfort and support through life, including Eileen Johnson and Pat Appleton, her St. Joseph's Academy classmates, as well as her St. Clare's family and the spiritual team at St. Edward's. Joan lived life fully, in times of challenges and joy, and always with grace, good character and dignity. Joan never felt sorry for herself and let her strong faith motivate her to push forward and not despair. Joan had many interests including bingo, crafts, reading, shopping, and a little gaming now and then. She was a distinguished life member of the St. Clare's Hospital Auxiliary and a volunteer and greeter with St. Edward the Confessor Church. Joan's family is deeply grateful for the kindness, compassion, and respectful care that the staff at Schuyler Ridge, Hospice, and Dr. Stephen Grant provided.
Calling hours will be held on Tuesday, January 8, from 4 to 7 p.m. at the Catricala Funeral Home, 1597 Route 9, Clifton Park, with a funeral Mass on Wednesday at 10 a.m. at St. Edward the Confessor Church in Clifton Park. Burial will be in St. Joseph's Cemetery in Schenectady.
In lieu of flowers, the family requests memorial contributions be made to Schuyler Ridge Activities Fund, c/o SPHP Foundation, 310 South Manning Blvd., Albany, NY 1220