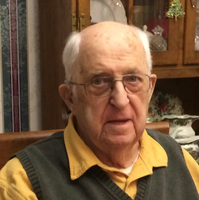 John C. Smith
John Charles Smith 88 of Clifton Park, passed away at his home surrounded by family on January 5, 2019 after a long illness. He was born in Corinth, NY on May 16, 1930 to the late Rudolph and Helen Smith.
He was a graduate of Corinth High School in 1949. He was employed by the International Paper Mill in Corinth as an electrician. He was a Korean War Veteran serving from 1952-1953. He was also employed for IBM as a Field Service Engineer for over 34 years. He was an avid Ham Amateur Radio operator, K2EJL and a lifetime member of the American Radio Relay League. He was a founding member of the Saratoga Amateur Radio Association and active many years with the Schenectady Amateur Radio League. He was a Scout Master for Boy Scouts of America when his sons were growing up and imparted his love of camping to his children. Furniture making was a hobby for him in the 1970's and many pieces are still cherished by the family. He was a gifted and talented electrical engineer who built his own computers and other electronic devices as a hobby. He was never afraid to tackle a problem and often helped others with DIY projects. He was loved by many and will be dearly missed by all who knew him.
He is survived by his wife of 64 years, Phyllis Podesva Smith of Clifton Park, children Richard (Sue) Smith of Austin, Texas, Tod (Eileen) Smith of Austin, Texas, Suzanne (David) Moore of Clifton Park, and David (Maryann) Smith, of Mechanicville; sisters Helen Gray of Ballston Spa, Catherine Carter of Saratoga, granddaughter Katelyn Smith of Waco, Texas, sister in law Sharon (Donald) Boutelle of Broadalbin and many nieces and nephews.
Calling hours will be held on Thursday, January 10 from 9 to 11 a.m. at the Catricala Funeral Home, 1597 Route 9, Clifton Park, with a Mass of Christian Burial following at 11:30 a.m. at St Edward the Confessor Church. Interment will be in the Saratoga National Cemetery in Schuylerville