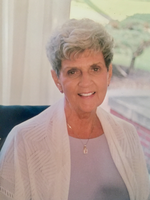 Lucille M. Appiarius
Lucille M. Appiarius, age 86 of Clifton Park passed away peacefully on Monday, January 7, 2019. Born in 1932, she was the daughter of the late Arthur and Louise Minett. She was predeceased by her husband of 62 years; John "Chet" Appiarius Jr, and her sister Jean O'Brien.
After graduating from Erasmus Hall High School in Brooklyn, Lucille began working on Wall Street before relocating to the Capital Region with her husband Chet. She spent a brief time working at General Electric and the Schenectady Gazette. She last worked for the NYS Dept. of Taxation & Finance for 20 years.
Lucille and Chet spent winters in Florida where she loved her long walks on the beach. She enjoyed going on road trips to good restaurants within a 100-mile radius, and was an avid reader of mystery novels. She was known for creating beautiful needlepoint works.
She is survived by her daughters Lisa M. Appiarius, and Laura J. (Bradley J.) Elliott, her son J. Peter Appiarius, and her nephew Kevin O'Brien.
Calling hours will be held on Wednesday from 10 a.m. to 12:30 p.m., with a memorial service at 12:30 p.m. at the Catricala Funeral Home Inc., 1597 Route 9 in Clifton Park.
In lieu of flowers, donations may be made to the Northeast Parent and Child Society, 530 Franklin St, Schenectady, NY 12305.