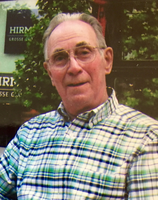 Niko Petersen
Niko Petersen, age 89 of Riverview Rd., Vischer Ferry passed away on January 15, 2019. He was born on March 16, 1929 in Sterup, Germany, near Flensburg. He was predeceased by his wife Maria Petersen and his daughter Ellen Davis.
Niko was educated in Germany and served his carpenter apprenticeship from 1942-1945. He worked for several construction firms throughout Germany. He came to the US in 1954 and resided in Troy. He met his wife in New York City. They were married in 1957 in their hometown in the same church where both sets of parents were married in the Island of Foehr, Germany. In 1966, they moved to Vischer Ferry. He kept on working even after retirement in his building and carpenter trade. He loved to return to Germany to visit his family and friends.
He is survived by his sons Henry (Debbie) Petersen, and Jurgen Petersen, son-in-law Ben Davis, grandchildren Christopher Petersen, Courtney (Ken) Woolard, Julia Petersen, and Hunter, Sylvester, and Snow Popis, and three great-grandchildren.
The family would like to thank the staff of Saratoga Hospital for all the excellent care that they provided.
Following his wishes, there will be no calling hours and all services will be private at the convenience of the family.
Donations may be made in his memory to the Alzheimer's Association: 4 Pine West Plaza #405, Albany, NY 12205, or to the Amity Reformed Church, 335 Riverview Rd., Rexford, NY 12148.