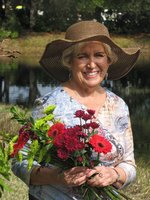 Martha Maria Cardona
Martha Maria Cardona, age 87 of Halfmoon passed away peacefully on Tuesday, January 22, 2019. She was born on July 10, 1931 in New York City, the daughter of the late Amado and Enriqueta Varona. She was predeceased by her husband Ramon Cardona, brother Raymond Varona, her sister Milagros (Ed) Spafford, and her sister-in-law Cibeles Varona.
Martha worked as a paralegal for the Legal Aid Society of Albany for 27 years, retiring in 1996, and was a legal interpreter for the Bureau of Hearings and Appeals. Martha and her husband Ray enjoyed volunteering for the Community Hospice of Saratoga for many years, and she was a past president of the Boght Fire Ladies Auxiliary.
She is survived by her daughters Linda (Bradley) Strauss-Jones, and Vivian (Raymond) Zajac, and sons David (Denise) Cardona and Steven Cardona, and brother Amado Varona. She is also survived by grandchildren Kristin, Richard, Matthew, Nicole, Steven Jr., Dustin, and 6 great-grandchildren.
The family would like to extend their heartfelt thanks to Martha's caregiver team at the Glens Falls Hospital for their excellent care.
Calling hours will be held on Sunday, January 27th from 1 to 5 p.m. at the Catricala Funeral Home Inc., 1597 Route 9, Clifton Park, with a funeral Mass on Monday at 10 a.m. at St. Edward the Confessor in Clifton Park. Burial will follow in the Saratoga National Cemetery.
In lieu of flowers, donations may be made to the Community Hospice of Saratoga Wish Fund, 179 Lawrence St., Saratoga Springs, NY 12866.