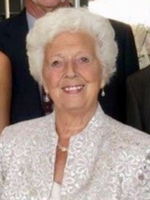 Ruth E. Ganong
Ruth E. Ganong, age 90 of Halfmoon passed away peacefully on Tuesday,
January 22, 2019. She was born on June 1, 1928 in Crailsheim, Germany.
She was predeceased by her husband H. Howard Ganong of 65 years, and her son-in-law L. Donald Acker.
Ruth grew up during WWII and experienced all the horrors of war. She moved around to numerous cities to stay with loving relatives. While working on a farm for food she was approached by the U.S. Army commander of the P.O.W. camp nearby to become an interpreter. She traveled with the U.S. commander to several cities as an interpreter. During this time while in Munich, she met her future husband Howard who also brought her to the Lord. She followed Howard to America on a ship to New York City. They married and settled down in Stamford, Connecticut and began a family. Ruth was a dedicated wife, mother, homemaker and focused on a stable family life due to her unsettled years growing up in the war. She enjoyed cooking, sporting activities and was a dedicated Yankees fan. Later in life became an avid supporter of Howard's and Petra's speed-skating careers. She was a devout Christian, enjoyed singing in the choir, teaching Sunday School, and was a Deaconess in the church. Ruth worked as a supervisor and assistant manager at Albany Savings Bank for 25 years where she retired.
She is survived by her daughters JoAnn Spooner and Cynthia Acker, sons Chris (Kathie) Ganong, and Gary D. (Stacy L.) Ganong, sister Christel (Roland) Grettenberger,brother Uli Kratzer, grandchildren Kristen (Kevin) Theriault, Caitlin (Sean) Sherbino, Petra Acker, and Abbigail L. Ganong, and great grandchildren Gavin, Keegan Theriault, and Brianna Elisabeth Sherbino.
Calling hours will be held on Sunday, January 27th from 3 to 5 p.m., with a service at 5 p.m. at the Church at Newtown Road., 142 Lower Newtown Rd. in Halfmoon, will be in Saratoga National Cemetery on Monday at 10:30 a.m.
In lieu of flowers, donations may be made to the Schenectady City Mission, 425 Hamilton St, Schenectady, NY 12305.