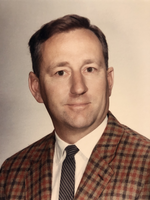 William S. Bernhardi
William Shaw "Bill" Bernhardi peacefully passed away on July 29, 2019. A kind and gentle man of boundless humor, he was 91 years old. Born on March 18, 1928 in Jamaica, New York to Dr. Ernest F. Bernhardi and Florence Ruth MacPherson, he was raised in East Rockaway, New York. Bill was one of six children.
Bill graduated East Rockaway High School in 1945 and received a Bachelor of Science degree in 1949 from The State College of Forestry at Syracuse University. From 1950 to 1954, Bill served in the United States Air Force as a major assignment instructor in radar, achieving the rank of Staff Sergeant.
After studying electrical engineering at Polytechnic Institute of Brooklyn he worked for Sperry Gyroscope in the statistical analysis of the performance of the B-58 bomber's "Controlled Bomb Pod".
In 1957 he married Florence Brennan and the couple raised four children in first Massapequa and then Seaford, New York.
From 1958 to 1975 Bill worked as a math teacher at Baldwin Junior High School. Afterwards he owned and operated a family business in Bellmore, New York before retiring in 1998.
Bill learned to play golf when he was in college, and after his retirement, was an avid golfer. He also reveled in taking hours-long walks, reading non-fiction and history and researching his family genealogy long before records were available online. He amassed boxes of historical materials and records, learning in the process that his great grandfather, Robert Turnbulll MacPherson, believed to be the first to use the "new" art of photography to photograph Rome, is known as the "father of photography in the Eternal City". He learned that the poet, Robert Browning, wrote a poem entitled "A Pretty Woman", about his great grandmother, Louisa Gerardine Bate.
Bill was preceded in death by his three brothers, Ernest "Bud", John and Robert, by his two sisters Marjorie Bernhardi and MaryLou Murray and by his young grandson, Colby Sharpe.
He is survived by Florence, his wife of 62 years, his daughters, Eileen Bernhardi (Adrian Swingler), Susan Bernhardi (David Sternberg), and Ann Sharpe (Robert), by his son, William, Jr. and by his grandchildren, Anna and Joseph Sternberg, Albert Swingler and Branden Bernhardi, and Jacob and Daniel Sharpe.
A funeral mass will be held on Monday, August 12th at 10 a.m. at St. William the Abbot Roman Catholic Church, 2000 Jackson Ave in Seaford, where Bill was a parishioner since 1959. Burial will be in Jonesville Cemetery in Clifton Park, NY at a later date.