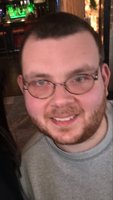 Joel C. Pallone Jr.
Joel C. Pallone Jr. Age 24 passed away Thursday, August 15, 2019. Born on October 5, 1994, he was the son of Joel C. Pallone Sr. And the late Tammy Pfeiffer Pallone. He was predeceased by his paternal grandmother Elizabeth Pallone and his paternal grandfather Clifford Pfeiffer Jr.
Joel is survived by his grandmother Diane Filkins, step grandmother Ellen Pfeiffer, Aunts Tracey (Wayne) Hatlee, and Cheryl DiSanti, and his uncles Clifford ( Laura Hill) Pfeiffer and John (Kim) Pallone. He is also survived by his cousins, Karissa (Cody) Hatlee, Matt (Liz) Hatlee and Jacob, Joey, and Julianna Hatlee, anD Michelle Sapanaro(Christopher) Samantha Walker and Anthony DiSanti, as well as many friends.
Joel was a 2012 graduate of Shenendehowa High School, he went on to HVCC and studied public speaking and broadcasting, following his dream to be on the radio. Joel was involved with the Wildwood work Readiness Program and WOW as well as Part Of Our House Recreational Program.
Joel was an avid sports fan and could relay stats at lightning speed. Joel loved to play video games and especially loved 80's music and the Lord Of The Rings and he often quoted movie lines.
Joel was a kind and gentle soul, he had a huge heart and you knew when he loved you, even though the words were not easy for him to express, he loved his family immensely. Joel could always surprise us and exceeded all expectations. He recited the alphabet in reverse at age 2, could spell Helicopter at 2 and a 1/2, he never let his special abilities hold him back.
Calling hours will be held on Wednesday, August 21st from 4 to 7 at Catricala Funeral Home, 1597 Route 9 Clifton Park. All are welcome to come celebrate Joel's life!