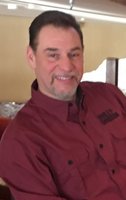 Philip V. Caputo
Philip V. Caputo, 62 years old, passed away at home on July 26, 2021 surrounded by his loving family after a courageous battle with pancreatic cancer.
Phil was born on February 14, 1959 in Yonkers, NY to Philip and Frances Caputo. He was predeceased by his father Philip and brother, John Caputo. He was a loving and wonderful husband to Deborah. Phil leaves behind two children, Philip and Laura Caputo whom he loved more than anything.
Phil was a master chef and avid restaurant owner and operator. After he sold his initial restaurant in Mount Kisco, he opened East Ridge Cafe, an upscale restaurant in Ridgefield, CT where he had an incredible and successful run of 25 years. He left a lasting impression and impact on every person that walked through those doors including both staff and customers. In 2011, Phil took on his next venture in Clifton Park, NY when he opened Caputo's Pizzeria Restaurant along with his wife, Deborah. Caputo's became such a neighborhood dining experience and as Phil would say "Great Pizza – Great Food – It's What We Do!"
Again, Phil had such a positive impact on many people's lives, his family, his employees, and his close, loving friends who feel his loss terribly.
Phil loved to cook and his life revolved around food and being in the kitchen. In addition to being a chef, owner and operator, Phil and his brother Jim had a great passion for fishing specifically Steelhead catch and release. He also enjoyed taking trips with Deborah on his Harley Davidson as well as his daily cycling adventures. He was an avid New York Yankees and Dallas Cowboys Fan. Phil was hardworking, dedicated and took great pride in everything he did. He worked hard, played hard and most importantly loved hard. His famous saying was "Go Big or Go Home".
Phil is survived by his wife, Deborah, his mother Frances, his children, Philip and Laura, his stepdaughter, Alexis (Paul), his granddaughter Ella Marie, his brothers Jim (Harriet) Caputo and Paul (Gina) Caputo and his nephews, Jimmy, Michael and Dean.
Calling hours will be held on Friday, July 30th from 3 to 7 p.m. at Catricala Funeral Home, 1597 Route 9, Clifton Park.
Additional services will be held from 3-7 pm on Monday, August 2nd at Yorktown Funeral Home, 945 E Main St, Shrub Oak, NY. A funeral mass will be celebrated Tuesday morning at Church of the Holy Spirit, Cortlandt Manor, NY.
The family requests no flowers be sent. Donations may be made in Philip's memory to the Lustgarten Foundation for Pancreatic Cancer Research.