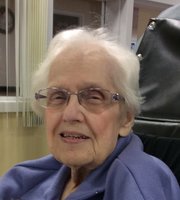 Lois E. Biette
Lois E. Biette, age 94 of Halfmoon passed away peacefully on July 29, 2021. Born on June 21, 1927, she was the biological daughter of the late Walter McBee and Grace Hutchinson McBee and the adopted daughter of the late Foster and Beatrice Hutchinson. She was predeceased by her husband Henry N. Biette and siblings Mildred Miller, Emma Burns, and Roy McBee, and her grandson Dale A. Samson, Jr.
Lois worked in the dietary department at Leonard Hospital in Troy and at Cohoes Hospital. She was involved throughout her life in musical arts and enjoyed singing in various choirs. She was active in the Halfmoon Senior Center where she called bingo and wrote and directed plays.
She is survived by her daughters Diane L. Samson and Lois J. Biette, son Gary K. (Barbara) Biette, grandchildren Rebecca (Kevin) Tollisen, Jason (Jessica) and Scott (Nicole) Biette, and several great-grandchildren.
A calling hour will be held on Monday, August 2 from 11 a.m. to 12 p.m., with a funeral service at 12 p.m. at the Catricala Funeral Home Inc., 1597 Route 9 in Clifton Park. Burial will be in Elmwood Hill Cemetery in Troy.
In lieu of flowers, donations may be made in her memory to the Mohawk Hudson Humane Society, 3 Oakland Avenue, Menands, NY 12204 or visit www.MohawkHumaneSociety.org., or to the St. Jude's Children's Research Hospital, 501 St. Jude Place, Memphis, TN 38105 or www.StJude.org.