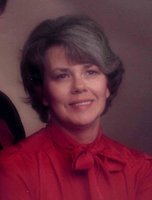 Pamela J. Weigel
It is with profound sadness that the family of Pamela Joy Weigel announce her peaceful passing on July 25, 2021 at Glendale Nursing Home, in the company and comfort of her loving husband of 45 years, Jay F. Weigel.
Born on March 20, 1944 in Seattle, WA, she was the daughter of the late William Barnes and Elina Mildred Hattam. She was predeceased by her sister, Diane Gaye Hattam Bretthauer.
Pam had a passion for genealogy and since retiring in 2007 she spent countless hours researching several family lineages. As a natural detective and researcher, she was able to uncover priceless information and histories to pass down through our family. She never shied away from a good family mystery and was responsible for helping many uncover answers to long-held questions about their ancestors.
Along with her genealogy, Pam was an avid reader. There was almost no subject she would avoid in her quest to learn, understand, remember, or enjoy. Fortunately, she passed the love of reading to all her children, who appreciate the fact that she "never got rid of a book".
Prior to retiring, Pam served as a valued Administrative Assistant for several companies. Notably, her favorite role was as Registrar for the Twin Rivers Council of the Boy Scouts of America. Working there gave her the opportunity to share her skills and support an organization that meant so much to her sons, her husband, and herself.
Pam will be lovingly remembered by her husband, Jay F Weigel, her two sons, Scott A. Armstrong (longtime partner; Jane Casper) of Fond du Lac, WI, Jacob F. Weigel II (Sara) of Glenwood Springs, CO, and her two daughters, Michelle K. Peterson of Madison, WI, and Elivia E. L. Weigel of Grand Junction, CO. Pam had two adult grandchildren, Terrel Jay Cooke-Onody (Carrara) of Enumclaw, WA and Lichelle Pamela Gullett (Jason) of Madison, WI, and two great grandchildren, August Gullett (4) and Aurelia "Rosie" Gullett (1) with two more on the way.
Calling hours will be held on Thursday, August 19 from 11 a.m. to 1 p.m. at the Catricala Funeral Home Inc., 1597 Route 9, Clifton Park. Pam will be inurned in her beloved Enumclaw, WA, where her father and sister are located. In the shadow of Mt. Rainier, she will join them on the other side.
In lieu of flowers, please send donations in Pam's name to the Twin Rivers Council of the Boy Scouts of America at 253 Washington Ave. Ext. Albany, NY 12205.