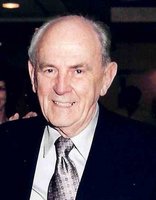 Charles H. Atkins
Charles H. Atkins of Mechanicville, passed away at Saratoga Hospital on Wednesday, Aug. 11, after a short illness, four days after his 97th birthday.
Born Aug. 7, 1924, in Springfield, MA., to Everett H. and Rose (Kirchner) Atkins, he grew up in Chicopee, MA, and graduated from Cathedral High School, Springfield, in 1942.
A member of the Greatest Generation, he received an appointment to the U. S. Merchant Marine Academy, Kings Point, L.I., that fall, reporting for duty on Armistice Day 1942, As the Battle of the Atlantic was nearing its climax, he and his section-mates received just 90 days' essential instruction before shipping out for extended on-the-job training as cadet-midshipmen aboard U.S. merchant ships. Over the next three years he carried vital war supplies to ports in Europe, the Mediterranean, Africa, the Persian Gulf, Asia and Australia, before returning to complete his academy instruction shortly before D-Day. After graduation, he served as a ship's mate in different vessels until 1950, and was honorably discharged from the U.S. Naval Reserve as a Lieutenant (jg) in the early 1960s.
He met his future wife, Raymonde (Mona) Bégin, of Lauzon, Québec, Canada, when she was visiting her cousin Norma in Chicopee. That blind date led to a Memorial Day wedding in Lauzon in 1953. They settled in Springfield and Ludlow, MA, where they had four sons before moving to Latham, NY, in 1965. Charles and Raymonde ultimately celebrated 63 years of marriage before her passing in 2016.
After his maritime career, Mr. Atkins worked for the Atlantic Refining Company, National Carloading Corp. and Montgomery Wards in Menands, where he was manager of the Wardfleet trucking department. He continued in a variety of transportation jobs well into his 80s, when his family finally prevailed upon him to retire.
Mr. Atkins was a devout Catholic to the end of his life, saying his rosary daily and watching Sunday Mass on television when infirmity prevented him from attending church in person.
A passionate stamp collector for more than 90 years and member of the American Philatelic Society, he also was an expert amateur historian, a devoted Boston Red Sox fan, and a talented sketch artist whose hand-decorated birthday cards never failed to delight his grandchildren.
Predeceased by his parents, his loving wife and son, Mark S. Atkins, he is survived by his brother, Paul W. Atkins (Alice) of Easthampton, MA, sons James (Susan), of Hagaman, Peter of California and Gregory (Faith) of Clifton Park, and five grandchildren.
Calling hours will be held on Sunday, August 15th from 1 to 4 p.m. at the Catricala Funeral Home Inc., 1597 Route 9, Clifton Park, with a funeral Mass on Monday at 11:30 a.m. at St. Mary's Church in Crescent.