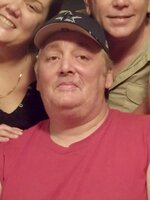 Wade C. Mushorn
Wade C. Mushorn, age 55 of Halfmoon passed away on Thursday, August 26, 2021. Born on September 4, 1965, he was the son of the late John and Joan Mushorn. He was predeceased by his brother Scott Mushorn.
Wade spent his career as a chef in several area restaurants, catering companies, and country clubs including Donovan's, Kirkers, Zeeko's, and Van Schaik Country Club. He most recently worked at Friday's in Clifton Park and Carson's on Saratoga Lake. He was an avid Dallas Cowboys fan and his greatest joy was spending time with his beloved grandchildren.
He is survived by his wife Wendy Mushorn, daughters Teresa (Christopher) Phillips, Erika (Derek Matala) Mushorn, April (George Russell) Mushorn, and his nephew Justin Mushorn. He is also survived by his grandchildren Derek Jr., Nathan, Dominick, Nina, and Grace and his dog Dewy.
Calling hours will be held on Tuesday, August 31 from 3 to 5 p.m., with a service at 5 p.m. at the Catricala Funeral Home Inc., 1597 Route 9, Clifton Park.
In lieu of flowers, donations may be made in his name to the Mohawk Hudson Humane Society, 3 Oakland Avenue, Menands, NY 12204 or visit www.mohawkhumanesociety.org.