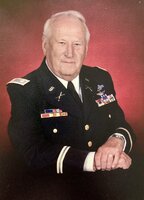 Walter "Walt" Kuehn Jr.
Walter "Walt" Kuehn Jr., 86, of Round Lake, NY, passed away peacefully on Friday, September 3rd. He was born in North Haledon, New Jersey on March 1st, 1935 to Walter Kuehn Sr. and Marie Hedwig Dick. He is preceded in death by his first wife Suzanne W. Kuehn (52 years of marriage), father Walter Kuehn Sr., mother Marie Hedwig Dick, brother Alfred Kuehn, brother Gerhardt Kuehn, and sister RoseMarie Kuehn.
Walt graduated from Rutgers University in 1957 with a Bachelor of Science degree, and later received an MBA from Southern Illinois University. He entered the military right out of college in September 1957 and served until 1980. Walt completed three tours of duty in Vietnam, and among other awards and honors, he received the Purple Heart and the Distinguished Flying Cross for Heroism while Participating in Aerial Flight. He retired as a Lieutenant Colonel. He then entered into civilian life as Director of the Job Corps where he worked from 1980 to 1996.
Walter Kuehn Jr. is survived by his wife Carole Beauregard; brother Raymond Paul Kuehn (Teresa Kuehn) of Arizona; son Gregory Kuehn (Janice McWhorter) of Mocksville, North Carolina, daughter Cathy King (Kevin King) of Malta, New York, son Wayne Kuehn (Gayle Kuehn) of Frederick Town, Missouri, daughter Rebecca Kuehn McKay of Springfield, Missouri; grandchildren Sarah Olivia Kuehn, Dylan Kuehn, David Kuehn, Donavan Kuehn, Daniel Kuehn (Starr Kuehn), Brady King (Katherine McGan), Cassidy King (Zachary Ryle), Garrett Lammert; great granddaughter Mila Kuehn, and many nieces and nephews.
In addition to his immediate family, Walt is survived by his step children and step grandchildren who loved him so much. Kathy Gooley (Chris Gooley), Kara Guthrie (William Guthrie), Tab Beauregard (Elizabeth Beauregard); Jessie, Rachel, and Schuyler Gooley, Caroline, Courtney, Annie, and Will Guthrie, and Grace, Molly, and Hannah Beauregard.
Walt was a true gentleman devoted to God, family, and his country. Everyone knew him as respectful, kind, and funny. Even in his final days, his sense of humor was contagious. For leisure, Walt loved drinking Martinis with good friends, reading mystery novels (sometimes finishing one in a day), and driving his party boat on Lake Hortonia.
Walt, the most careful observer of people, often listened to everyone else talk before he chimed in. It made him happy just to sit at a dinner table with family and listen to everyone else talk. He just wanted to be in the presence of those he loved.
Over the years, Walt loved tending to his garden, caring for his Shetland sheep dogs and his cats (who were named after the color of their fur), making delicious recipes including his famous beet salad, and watching The Five on Fox News. During his lifetime, Walt lived in many different places throughout the world and therefore touched the lives of many. He will be greatly missed.
A funeral service with military honors will be held on Monday, September 13th, 2021 at 1:30 p.m. at the Gerald B.H. Solomon Saratoga National Cemetery, 200 Duell Rd., in Schuylerville.
In lieu of flowers, memorial donations may be made to Victory Baptist Church in Vergennes, Vermont (to donate, click here) or the Greater Vergennes Rotary (to donate, click here).