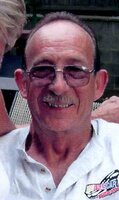 Claude F. Riley
Claude Francis Riley, age 72 of Fonda Rd., Waterford passed away at his residence comforted by his family after a brief illness on Tuesday September 14, 2021. Born in Troy, he was the son of James and MaryJane (Thierien) Riley. He is predeceased by both parents.
Claude was raised in Crescent and served proudly in the US Air Force stationed in Ipswich, England as a Cryogenic Fluid Products Specialist.
He retired as a Carpenter Millwright with union local #370 after 25 years.
Claude was an avid "Dirt" stock car racing enthusiast and racing official for over 20 years at local area race tracks. He held many positions with the New York Stock Car Association (NYSSCA) He was very instrumental with the early growth of the organization for the "Injured Members Benefit Fund" where he made countless friends. Claude was inducted into the NYSSCA Hall of Fame in 2015.
After retirement from the carpenters union, he obtained his CDL License and drove for various companies. He was employed at Manheim in Clifton Park at his time of death.
He is survived by his wife of 42 years, Gail (Scensny) and boys Earl McMahon Jr (Carla) of Waterford and Todd McMahon (Sara) of Alexandria, VA. He was poppy to Zachary, Taylor, Hanna and Matthew McMahon as well as step grandchildren Shawn and Cierra Brady. He is also survived by his siblings James - "Sonny" (Janet), Billy, Gail, Danny, and Wayne (Aimee).
Calling hours will be held on Monday, September 20th from 4 to 7 p.m. at the Catricala Funeral Home, 1597 Route 9, Clifton Park, with a funeral service on Tuesday at 10 a.m. at the funeral home. Burial with military honors will be held at Saratoga National Cemetery.
In lieu of flowers, contributions can be made to Community Hospice of Saratoga County,
179 Lawrence St., Saratoga Springs NY 12866 or to NYSSCA in care of Cheryl Catman, 135 Columbia Turnpike, Rensselaer NY 12144.