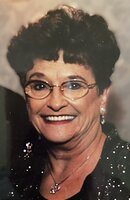 Patricia T. Dyer
Patricia A Dyer (Thelen), 83 of Halfmoon passed away Monday, September 21 at Saratoga Hospital. She was predeceased by her son Richard Dyer, her daughter Heather Daniels and her brother John "Jack" Thelen.
Born in Schenectady and raised in Saratoga Springs, Pat was the daughter of the late Richard and Ruth (Peg) Thelen. She graduated from Saratoga Springs High School and Albany Medical Hospital's School of Nursing.
Pat joined the American Legion Auxiliary Mohawk Unit 1450 in 1968. She was a very active and valued member of the Auxiliary and made many friends through her work there. She served as Department of NY President in 2004-5.
Pat is survived by her husband of 57 years, Robert Dyer, her sister Carolyn Bove of Rutland, VT, her son-in-law Thomas Daniels of Phoenix, AZ and many nieces and nephews.
Information about services will be posted at a later date.