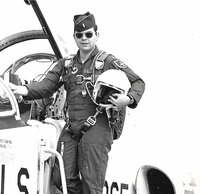 Charles D. Dill
Lt. Col (Ret) Charles Dexter "Skip" Dill passed away peacefully on September 22, 2021.
Skip spent 22 years in the United States Air Force where he was commissioned on October 7, 1971 and earned his wings on October 13, 1972.
His 50 year marriage to Dara Kalaus Dill would be celebrated on October 10, 2021. He is also suvived by his daughters Elaina-Lee and her husband Michael Davis, daughter Alexa-Lee Dill, daughter Alissa-Lee Dill and her wife Kasandra Frasier, and his 4 adoring grandsons. He will be remembered by his 2 brothers and 2 sisters and their families.
A service with military honors will be held at High Noon on October 7, 2021 at the Saratoga National Cemetery. With respect to their wishes, the family kindly requests that all attendees are fully vaccinated.
In lieu of flowers, donations may be made in his name to Operation At Ease by clicking www.operationatease.org